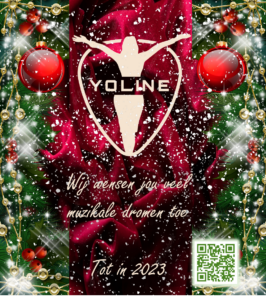 Yoline wenst iedereen een fantastisch 2023 toe. We kunnen heel zwaarmoedig worden van alles wat er in de wereld en om ons heen gebeurd. Dat zien wij ook. We zien ook dat cultuur, theater en muziek altijd verlichting brengt en een andere mindset creëert. Zelfs in de metro's van Kiev waar moeders met kinderen schuilen voor raketten en een glimlach ontstaat bij de kinderen wanneer zij daar theater- en muziekvoorstellingen zien. We hebben theater en muziek nodig om in balans te blijven. Het zijn onze ankers die ons terugvoeren naar onze jeugd, de eerste liefdes, het eerste huis etc, etc.  Wij willen die muzikale ankers voor iedereen uitgooien in 2023. Blijven dromen en vertrouwen in elkaar blijven houden. Ook in 2023.
Wij hebben plannen in 2023. Naast nieuwe events op onze eigen locatie zullen we het nest verlaten om op uitnodiging te komen spelen. Daarnaast zijn er plannen voor een bijzonder kerstevent op een bijzondere locatie.  14, 16 en 17 December 2023 mogen alvast worden aangevinkt in de agenda.
Yoline wishes everyone a fantastic 2023. We can become very melancholy from everything that happens in the world and around us. We see that too. We also see that culture, theater and music always bring relief and create a different mindset. Even in the subways of Kiev where mothers with children hide from missiles and the children smile when they see theater and music performances there. We need theater and music to stay in balance. It is our anchors that take us back to our youth, the first loves, the first house, etc, etc. We want to throw out those musical anchors for everyone in 2023. Keep dreaming and keep trusting each other. Also in 2023.
We have plans in 2023. In addition to new events at our own location, we will leave the nest to come and play by invitation. There are also plans for a special Christmas event at a special location. 14, 16 and 17 December 2023 can already be checked in the agenda.